Business Model
EMX Royalty Corporation has a long-standing track record of success in exploration discovery, royalty generation, royalty acquisition, and strategic investments. Our diversified, three pronged business approach provides exposure to multiple upside opportunities, while minimizing the impact on EMX's treasury.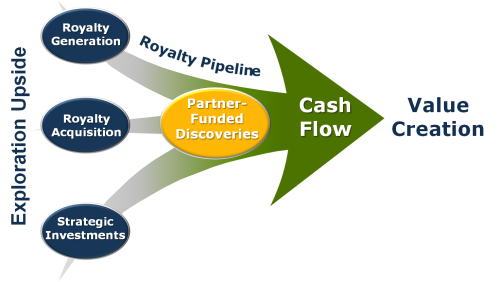 EMX's business model is designed to efficiently manage the risks inherent to the minerals exploration and mining industry.  Key elements and resulting advantages of our unique approach are:
We organically generate royalties through low cost property acquisition and early-stage exploration to build value, and then develop partnerships with quality companies to advance the projects, with EMX retaining a royalty interest and receiving pre-production payments.
Our organic royalty growth is supplemented by purchases of royalties from other parties, as well as strategic investments.
Cash flow from royalties, advance royalties, and other property payments are supplemented by returns from strategic investments, and provide "self-funding" operating capital for our ongoing business initiatives.
Using this model, we sustainably grow the royalty portfolio, with minimal dilution to our shareholders.
EMX's royalty and property portfolio spans five continents, and consists of a balanced mix of precious metal, base metal, and other assets.
​